Chevron Conveyor belting is used to convey wet and/or loose materials up steep inclines. The V-shaped chevron cleats prevent or reduce slide back and increase the amount of product moved by quick pick-up at the point of lading.(Applicative Angle of inclination from 17o to 28o)
Applications include: sand and gravel, wood chip handling, minerals-such as coal and iron at inclined angles.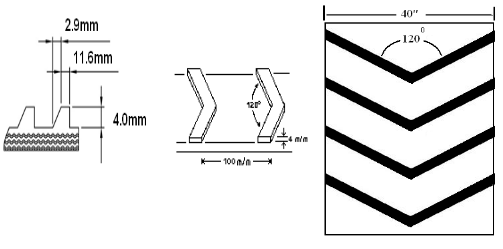 Max. Width of belt
Popular size
1000mm
2p/220x1/8" Multi-Chevx1/16"
3p/330x3/16" Multi-Chev x 1/16"